sae 100 r13 kelly hose, cementing hose, high pressure hydraulic hose
made in usa
Six Spiral Hydraulic Hose
Features:
USCG Fluid Power and Fuel/Lube Systems Accepted
MSHA Accepted
Flame Resistant

Manufactured in the U.S.A.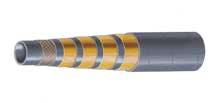 Full line hoses and assemblies. Knowledgeable staff and friendly services. Email today for price quote
contact us
sae 100 r13 kelly hose, cementing hose, high pressure hydraulic hose
SAE 100 R13 Kelly hose,Cementing hose,High Pressure Hydraulic Hose

Six Spiral Hydraulic Hose • SAE 100R13
Features
• USCG Fluid Power and Fuel/Lube Systems Accepted
• MSHA Accepted
• Flame Resistant
Construction
• Reinforcement: High tensile steel wire spiral layers:
Sizes up to 1" has four layers, Sizes 11/4" thru 2" has
six layers.
• Cover: Abrasion and weather resistant synthetic rubber
• Tube: Oil resistant synthetic rubber
• Operating Temperatures: -40°F to 250°F (-40°C to 121°C)
Typical Application
• Very high pressure hydraulic lines subjected to pressure
surges and flexing.
• Oilfield, construction, mining, farming and high
performance industrial equipment.
Fittings
2" N.P.T threads and/or hammer union connections 2" fig 1502. fig 602, fig 1002 hammer union.

Sales sales@worldrigsupply.com

832-474-4440

World Rig Supply Houston Texas

Specialty High Pressure Hoses.
About us

|

Hoses

|

Fittings

|

Equipment

|

V belts

|

Contact us

|


World Rig Supply © 2020 | Privacy policy