Choke Line : USA MADE
USA made Choke lines and coflex stlyle choke lines fire resistant & covered with stainless steel armor made in lengths up to 150' and in pressurs from 5,000 psi and up to 10,000 psi w.p with end connections available suited for h2s service and each line comes with certificates, hydrostatic, origin and inspection.
5,000 PSI W.P 10,000 PSI TEST Choke line
7,500 PSI W.P 15,000 PSI TEST Choke line
10,000 PSI W.P 15,000 PSI TEST Choke line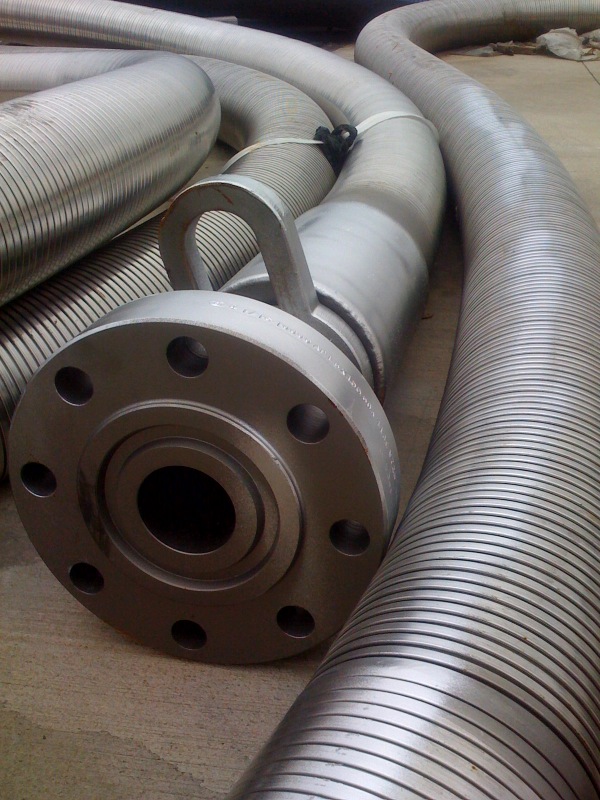 Choke line Coflex style hose

Features
• .031 Wall on Armor
Construction
• Reinforcement: Two or four high strength steel cables
• Cover: Ozone, petroleum and abrasion resistant
• Thermal Blanket: 1500°F continuous rating, non-flammable
and non-conductive
• Inner Tube: Petroleum resistant for oil based drilling fluids
• End Fittings: API Male nipples, threaded or butt weld hammer
unions, unibolt, API flanges and other special connections.
• Certification: API 7K, API 16C Availiable
• Maximum Length: 110 feet
• Operating Temperatures: -22°F to 200°F (-30°C to 93°C)
• Option: Available with Stainless Steel armor and fire protection
• End Connection: Good for H2S service.